Inspiration
Inspirational
I was going to use this page solely for posts about the artists that inspire me, but I also thought I should link to posts about what I see around me that inspires me! To read about inspirational things, click the picture below!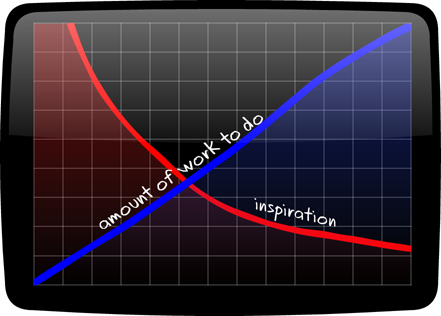 So I thought I would write out a list of all the artists' cds that I have bought over the years and what song made me buy their albums, why I like their music and why you should as well! I shall start at the top…
THE ARTISTS
1200 Techniques
I came across these guys on the radio back when I used to a) listen and b) to SAFM in the evenings. The song that made me buy their album was Karma. After listening to the album, I began enjoying more of their songs and I have their second album. My favourite songs are: Electro Boogie Freaks, Battlemaster, See Me Rock, Don One, B-Boy Shit, Takin' You Back, You Can Make It and Got 2 Survive. I've busted out some moves to these songs many times. I remember the days when I would create mix cds for days at Da Klinic, these tracks featured heavily.
I enjoy them as there is a strong connection to old school hip hop, which is one of my favourite styles as my obsession with music begun through breakdancing. There is a good blend of lyrical and instrumental tracks, which I enjoy. The majority of my favourite tracks are purely instrumental, as there is a lot more freedom in the music.  Unfortunately, they only released two albums, until they put the band on hold in 2005. Hopefully they will come back together to release another album, but I don't see this happening somehow.
Sounds like: Katalyst, Resin Dogs
To learn more, go here: http://www.imcmusic.net/artists/1200tec.asp
50 Cent
Of course, like everyone else, In Da Club was what brought 50 Cent into my music library. I'm not a big fan of fiddy, but there are a few songs – If I Can't, P.I.M.P, 21 Questions and Gatman and Robbin that I listen to.
I enjoy some of his music; there is a strong bassline, which is evident in most rap music. A large majority of his lyrics are explicit, but it's not as bad as I've heard. I can't understand why some rappers/MCs need to swear and talk filth the entire way through their albums…yes it does give it an edge to a point, but that's about it. Due to the strong collection of beats, instrumental versions are useful as backing tracks for layering vocals onto.
Sounds Like: G-Unit, Lloyd Banks, Tony Yayo, Young Buck
To find out more, go to: http://www.50cent.com/
A Tribe Called Quest
I first heard ATCQ on a compilation album with the song Award Tour. Some quality hip hop right here, one of the founding groups in my collection (I only have one album currently). The beats are funky – good use of horns, drums and guitars. My favourite songs are Check The Rhime, Award Tour, Electric Relaxation, I Left My Wallet In El Segundo, Luck Of Lucien and Vivrant Thing. I have heard their songs being sampled quite often, would be good to remix a couple of them in my classic breakdance mix.
A must have in any hip hop head or smooth R'n' B and hip hop lovers library, good chill out music, but still upbeat enough for some dancing. The lyrics are smooth and a twist of funky guitar and horns section gives them a Jazz flavour, which makes it just that bit different from all the other hip hop groups out there. There was talk of them getting back together and creating a new album, but I haven't seen it as of yet.
Sounds like: De La Soul, The Pharcyde,Q-Tip
To find out more, check out: http://atribecalledquest.com/html/
A-Trak
I remember when I was first seriously considering getting into DJing, and I was looking at what gear to buy. When I heard about Serato Scratch! Live, I was really excited, as it meant that I didn't have to spend a fortune of time and money trying to find and then buy records to use on the turntables. (To learn more about Serato and all their products, go here: (http://www.serato.com/) When I checked out the promotional videos for the hardware/software package, I came across DJ A-Trak. Now, when I first watched this clip (http://www.youtube.com/watch?v=Dg2ocE4O2ko), I thought, excellent, a hip hop DJ who has been winning DMC competitions! So when I found his album Infinity + 1, I was quite excited. When I put it in my CD player, I was confused. What came out wasn't hip hop at all; it was more skewed towards dance music! Seeing as I know that he has produced break records, I wasn't expecting that. The CD is ok, but as I have so many songs, I never really listen to a CD from start to finish. So the fact that it is heavily mixed (extremely well I must add, and well produced as well!) it turned me off that CD. I'm waiting to find more of his albums so that I can find other stuff of his to see the more hip hop side of his repertoire.
Sounds like: Depends, are you talking about hip hop or dance A-Trak?
To find out more, go to: http://djatrak.com/
Aaliyah
I discovered Aaliyah back one morning on RAGE. The synths and bass line in Try Again always make me want to get up and dance, no matter how many times I've heard it. Her other songs are slightly different –  a deep, laidback and mostly subdued R'n'B flavour. I was a little disappointed that she didn't have more club orientated tracks; however, due to a tragic plane crash during a film clip shoot, there was to be no more smooth tracks to hit the airways. Definitely was excited to see what could have been, as I'm sure she would have created some amazing tracks. Will be a sorely missed addition in my collection.
Sounds like: Brandy, Amerie, Ashanti, TLC
To find out more, go to: http://www.aaliyah.com/
Ace Of Base
Ahh, the days of school gymnasiums and buying dollar soft drinks. The creator of two classic 90s dance tracks – All That She Wants and Beautiful Life. A must have for those that enjoy all things 90s! The rest of their songs try and build on the success of these two, but fail poorly. Suggestion, buy those two tracks and leave it at that!
Sounds like: Yaki-Da, Roxette, Real McCoy
To find out more, go to: http://www.aceofbase-music.de/
Afrika Bambaataa
The first thing that anyone should think when they hear Afrika Bambaataa is ELECTRO. Amazing bass lines, drums and drum machines make these songs amazing. The skills in switching between different ideas is done well, with segments of bass lines changing, adding another layer to the song. I discovered Bambaataa due to numerous discussion of who was really the first DJ, and usually, the arguments always came down to Bambaataa, Kool Herc and Grandmasters Caz and Flash. I bought Renegades by Rage Against The Machine early on, and eventually discovered that they had done a cover of Renegades of Funk. This song, along with Planet Rock and Looking For The Perfect Beat are classic tracks. Anyone who wants to own classic albums, definitely needs to have Planet Rock – The Album in their collection! When listening to them, it reminds me of Grandmaster Flash and the Furious Five. Infectious hip hop tracks that cause your hands to clap and your feet to move!
Definitely one of my favourite artists!
Sounds like: Whodini, Grandmaster Flash, Kurtis Blow
To find out more, go to: http://www.zulunation.com/afrika.html
Akon
This one is interesting. The song that brought him to my attention was of course Banaza, but unfortunately, he tried to carry across his hardened persona in his album. Maybe it was a life story, but not one that was going to create great rap tracks. His second album, Konvicted delivered similar results, but there were signs that he was moving more into the rap/dance mainstream scene. With songs such as Smack That and I Wanna Love You saw collaborations with other artists which lifted his profile. His third album Freedom has been the transition to the mainstream. Lots of formulated tracks there, but they are catchy. Songs to look out for: I Can't Wait, Down (No'Side Remix), I Wanna Love You. Have a feeling he is going to move further away from the rap scene and follow a more R'n'B style…
Sounds like: Flo Rida, T-Pain, Taio Cruz
To find out more, go to: http://www.akononline.com/
Tha Alkaholiks (a.k.a. The Liks)
Back on the PS2, I bought the game B-Boy, which was based on breakdancing. The soundtrack on the game was quite good, and this is one of the bands I discovered. They use synths and lots of drums to produce a deep and heavy hip hop groove. As you could've guessed, they rap quite about drinking and smoking and being wasted. Their music has a laidback feel, to fit in with the whole being high and chillin' ideal, which is quite good for breakdance music, as it's not too fast and makes it easier to bust moves to the beat. My favourite CD is X.O. Experience containing many catchy songs. Some songs to listen to are: The Flute Song (La La La), Hangover, All Nights, L-I-K-S, Bully Foot, My Dear, The Bubble, Promote Violins and Make Room. If you're looking for something to have cranking in the background or as you're cruising, the heavy bass make The Liks a good choice.
Sounds like: The Beatnuts, Tash, King Tee
To find out more, go to: http://www.alkaholiks.com/
Candice Alley
Another find on the Saturday morning RAGE. The song was Surfacing, which is a good collection of strings, piano and solid drum line. Her smoky voice works well on the song, connecting well with the instruments to keep it at a simmering point, then surging during the chorus. This and Falling are the only semi reasonable songs on the album, the rest push no boundaries, relying on a very similar sound and formula. Her songs are in the mid range, very easy to listen to and forget. Unless you are large fan of people like Pete Murray and similar pop flavoured artists, then there is no real incentive to listen.
Sounds like: Sophie Monk, Amiel, Natalie Bassingthwaight
To find out more, go to: http://www.candicealley.com.au/

Amber Pacific
Another from a PS2 game, Burnout this time. Moving light rock music, with heartfelt lyrics, with all but one of their songs scoring a 4/5 stars or above! The guitars, bass and drums all complement each other, with a clear and crisp leading vocalist. Songs that I recommend are: Thoughts Before Me, Always You, Poetically Pathetic, Save Me From Me, For What It's Worth and The Right To Write Me Off. Great songs all round, definitely a band I would recommend you investigate. After going to their website, I realised I have fallen behind in their albums! Looks like more CDs to add to my list!
Sounds like: Just Surrender, Houston Calls, A Change of Pace
To find out more, go to: http://www.myspace.com/amberpacific
Amerie
Discovered her through the song 1 Thing. A smooth and rich R'n'B artist, whose laidback songs are quite full bodied, filled with deep drums, synths and piano, giving great support to Amerie's silky voice. When I bought her first album, I wasn't expecting much, but after listening to her songs, I was quite surprised and instantly enjoyed them. There are only a couple of songs which do not reach the 4/5 star mark. Songs that make your head bop, with silky vocals that in certain songs resonate extremely well that can make become lost in the song. If you are a R'n'B fan and enjoy artists like Mary J Blige, Alicia Keys, Cassie and similar, then you will like Amerie. Very relaxing, but there are some real bumping tracks in there as well. Songs I recommend are: Hatin' On You, All I Have, 1 Thing, Talkin' Bout, Come With Me and Falling.
Sounds like: Brandy, Aaliyah, Cassie, Ashanti
To find out more, go to: http://www.amerie.net/
Armand Van Helden
I remember first hearing You Don't Even Know Me back in 1999 and it has remained one of my favourite tracks ever since. I'm not a huge fan of house music, but for me, Van Helden fills a gap in my collection. There are a few of his songs that I enjoy – My My My, Full Moon and Koochy. I enjoy Full Moon because of the funky guitar and horn section, wish more of his songs were like this. He does layer styles, with dance being the base, then layering a different style – funk, pop – subtlety over the top. After having another listen to his songs, I have a greater appreciation, but will all the other songs that I have, I don't think they will really surface as my favourite songs.
Sounds like: Eric Prydz, Roger Sanchez, Axwell, Junior Jack
To find out more, go to: http://www.xmixprod.com/indexhtml.html
Louis Armstrong
Ahh Jazz. A legend, paving the way for many after him. I enjoy Jazz, and so this was a must in my collection. When I am actually in a Jazz mood, I should really put his music on. Lots of variety, lots of energy, lots of classics. Not much else is needed here.
Sounds like: Duke Ellington, Ray Charles
To find out more, go to: http://www.louisarmstronghouse.org/
Artful Dodger
I prefer garage and 2-step over house music, the beat is different – chopped up with a different feel, layered with strings, keys and synths gives Artful Dodger a very smooth feel. I enjoy almost every single song of his that I have, with It's All About The Stragglers being a very solid album. Smooth vocals compliment the chilled out vibes presented, however, the songs are still very danceable, an odd occurrence. I can have this CD playing in the background to help me relax, or I could have it blaring to pump me up; whichever your mood, this suits. Need more of his stuff!
Sounds like: DJ Luck & MC Neat, MJ Cole
To find out more, go to: http://www.theartfuldodger.co.uk/ (currently offline)
Ash
Another band that I originally found from Burnout with their song Orpheus. A great, energetic alternative rock band. Heavy and dirty guitars, unique vocals, clashing cymbals and heavy bass are characteristics of this band. From this description, you would think that they would be more likely to be a screamo band, but they execute tight control on the guitars and vocals to form a pulsating, smashing and lively band! Check out Clones, Orpheus, Vampire Love and Submission.
Sounds like: Feeder, Idlewild
To find out more, go to: http://www.ash-official.com/
At Jazz
Back when Big Star was around, I was a regular in their preowned section. You could easily find CDs that you have no idea about and you take a chance on. This was one of those finds. A mash of Jazz and dance, the songs I know (only one album so far) are relaxed, great chillout tunes. Even though they are relaxed, you can still dance to them. Smooth drums, brass, strings and organs define these songs. Just imagine – it's a warm night, the sun is setting, you're standing on a hardwood floor with double french doors opening out to the pool as you settle in a chair with a glass of wine, this is when you would have this playing. Smooth, sophisticated and cool, a great warm sound that is very enjoyable. Songs to look for: The Walk Home, It's Complete (Phil Parnell's Pushin' Your Love Remix) and Rain Angel.
Sounds like: Nuspirit Helsinki, Clara Hill, Beanfield
To find out more, go to: http://www.atjazz.co.uk
Atreyu
Another band that I discovered from Burnout Revenge with the track Right Side Of The Bed. One of the harder bands in my library, it borders on being screamo music, however, they can sing so there are some solid verses in there. Their strength comes with the heavy guitar riffs and solid drums. I don't mind their earlier stuff, however their lastest album, Lead Sails, Paper Anchor is a stunning album. One of the few albums that I have given 5 out of 5 stars for every track on the album. The reason for this is that they have moved further away from the screaming and moved towards singing but retained the heavy edge of their instruments. I strongly recommend that album if you like this style of music.
Sounds like: All That Remains, As I Lay Dying, Killswitch Engage
To find out more, go to: http://www.atreyurock.com/
Audioslave
Being a Rage Against The Machine fan (who isn't?) I naturally have been pulled toward Audioslave. The cross between current and past rock music makes for an interesting mix. I enjoy how it isn't too heavy, but still packs a punch with the guitars rising the vocals up. The varied and crazy "guitar play" that you find on the majority of RATM tracks can also be found here, which mixes up the sounds even more. Songs to look out for: Drown Me Slowly, Man Or Animal and Yesterday To Tomorrow.
Sounds like: Soundgarden, Temple Of The Dog
To find out more, go to: http://www.audioslave.com/
AutoPilot Off
Oh yea! AutoPilot Off, high energy, solid vocals and lyrics, a band that I really enjoy listening to. Quite middle-of-the-road in terms of rock, but leaning more towards the heavier side (ever so slightly) it is very enjoyable, without becoming overbearing. Another band that I found through Burnout and have continued to enjoy. Songs to look for: Make A Sound, Blessed By A Nightmare and Divine Intervention.
Sounds like: Allister, Gob, Sugarcult
To find out more, go to: http://en.wikipedia.org/wiki/Autopilot_Off (Unfortunately, their official band page is no longer active)

The Avalanches
Another CD i bought second hand, I of course heard of these guys through their song Frontier Psychiatrist on RAGE. A weird song, this is basically the theme of their music. Weird. If you were to try and explain it, it's like a mash of four…no five…no six…of many styles all thrown in a blender. After being blended, sometimes something good comes out, but at times it is just a grey chunky mess. They make it so all the songs blend and flow from one another, but sometimes you are sitting there wondering, what? Songs to look out for: Frontier Psychiatrist and Flight Tonight.
Sounds like: Air France, Flying Lotus, Lemon Jelly
To find out more, go to: http://www.theavalanches.com/
Average White Band
This was one of my favourite finds! Originally, their song Pick Up The Pieces is on a breakdance mixtape that I have and I instantly like the track due to the heavy sax and general funkiness in the song. I hadn't really tried to find the song, but because it was on the mixtape, it was hard to listen to just that song, you would have to fast forward to find it. Eventually, the news that I watch in the morning were using it as a backing track for their competitions segment. I emailed to ask, but of course, received no response. I was lucky enough to hear the lyrics "pick up the pieces" and shoving that into Google gave me what I was looking for! Songs to look for: Pick Up The Pieces and Work To Do.
Sounds like: Tower Of Power, Ohio Players, Con Funk Shun
To find out more, go to: http://www.averagewhiteband.com/
B2k
Another band that I found from the secondhand CD section of bigstar. Originally I bought the You Got Served soundtrack, which contained some good bumping tracks. I then expanded from there, grabbing their other albums. They have some smooth tracks, with great harmonies without being drowned out by stupid overpowered bass DUFF DUFF DUFFING all over the entire song. Good party music or for just chilling out and listening. Songs to listen out for: B2K is Hot, Tease, Hey Little Lady and Uh Huh (Ron G Remix)
Sounds like: ATL, iMX, 112
To find out more, go to: http://www.averagewhiteband.com/
Babe Ruth
A band with the name of a famous baseball player is a rock band(with an interesting funk sound) that was featured on the PS2 game B-Boy. I scored their album, First Base, which contains a few solid tracks, however, while looking for more songs from my breakdance mixtape, I came across an instrumental track that I had been looking for on iTunes. Was the most unexpected find, but one of the best, as from there, I found about ten more songs that I was looking for. One of them was the instrumental track of The Mexican, which sounds better than the original I feel.
Sounds like: Jimmy Castor Bunch, Dennis Coffey, Captain Sky
To find out more, go to: http://www.baberuthband.com/
<||||||||||||||||||||||||||||||||||||||||||||||||||||||||||||||||||||||||||||||||||||||||||||||||||||>
MORE TO BE ADDED! STAY TUNED…
<||||||||||||||||||||||||||||||||||||||||||||||||||||||||||||||||||||||||||||||||||||||||||||||||||||>